Agentur
Becoming a Hybrid Hero: Our remote onboarding process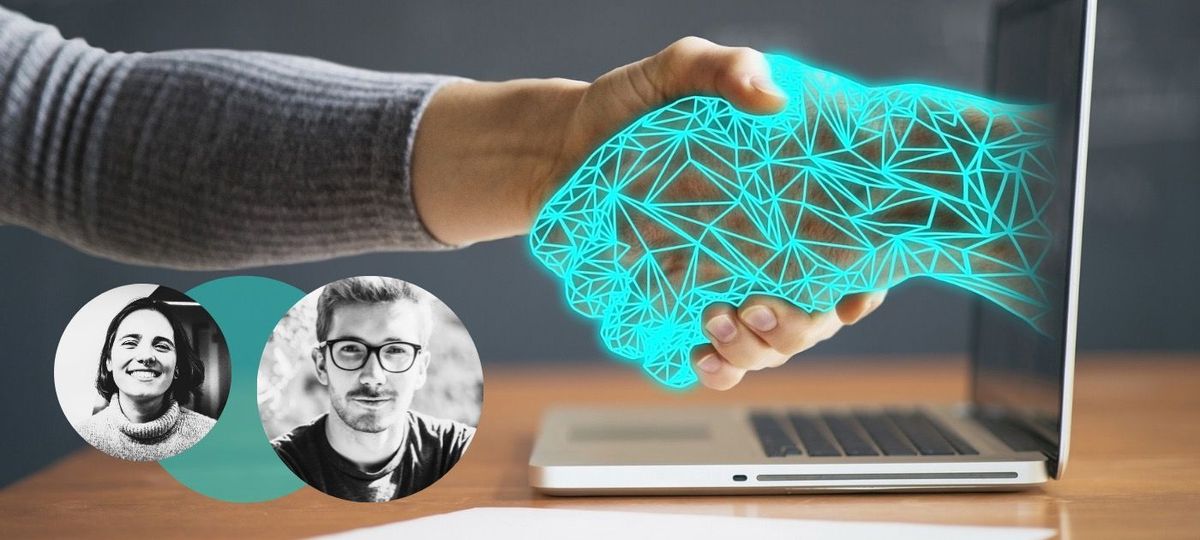 For today's blogpost, we introduce Mariana and Benjamin, who have joined the team recently and can now introduce us into the Hybrid Heroes onboarding process, which has the target of giving new employees a warm and easy start into the job and a quick integration into the team. Both talk us through the process, their first impressions in the company and advantages and struggles about becoming part of a team mostly remotely.
" It was quite cool to come into a company and see that it is so young and open, that you can also do things like gaming together and that it's not only a working environment in which you meet" — Benjamin, Junior Software Developer
Mariana is originally from Portugal, recently moved to Berlin and is now working on the app I-Reach (see blogpost From Manu with Love for the design story behind the app). Benjamin on his side, is from the greater Freiburg region in Germany and currently involved in web projects. Both of them joined Hybrid Heroes in November as Junior Software Developers.
Starting the Hybrid Heroes chapter
Most of the onboarding procedure happens during the first week. As naturally born heroes, we pick things up quite quick. Benjamin remembers how Björn, the Head of Operations, welcomed him at the Hybrid Heroes headquarters in Berlin-Schöneberg. After receiving his equipment, such as a personal MacBook Pro, they went through the set-up configuration on the device. However, all developers can customize their set-up according to their own gusto. "I was very warmly welcomed", Benjamin remembers.
Once accommodated, it's time to meet the new colleagues by joining the daily standup meetings from as many teams as possible. Moreover, the first week consists of a series of specific onboarding sessions, such as introductions to the HR tools and development workflows. Most of those take place remote in order to meet preventive COVID-19 measures and guarantee employee safety as far as possible.
Depending on personal safety needs and wishes, the onboarding can also be done fully remotely. Therefore, team members are not necessarily required to be in Berlin at all times. Night shifts due to time difference may be your biggest worry here (yawn). The hybrid onboarding approach meets the general working philosophy of the company, as all employees may work from home or join the office on specific days, depending on their personal needs. Flexibility is key – not only in our apps.
" All of the company's processes are aligned to work well in a remote environment. Screensharing is the modern way of looking over someone else's shoulder." — Benjamin, Junior Software Developer
Hybrid workflows for Hybrid Heroes
Mariana for instance works remotely for most part of the week, as she feels that the time commuting through Berlins rush-hour can be used more wisely. She likes to work on personal projects before starting her office day, which she couldn't if she had to spend that time commuting. However, the option to be able to join colleagues in the office is a good way to change environment from time to time and not "be closed-in at home five days a week", as Mariana emphasizes. Also, as new Berlinerin, she is happy to make new contacts.
In order to foster social relations apart from working hours, Hybrid Heroes offers their employees an Urban Sports Club membership with which plenty of different sports and events can be joined, such as yoga sessions, beach volleyball tournaments or fitness studios. Alternatively employees can make use of vouchers for supermarkets, furniture shops, electronic retail and more.
" I have always felt very welcome in the company. Everyone is always super supportive, other team members will always be there to help you when it is needed." — Mariana, Junior Software Developer
The biggest advantage of the hybrid workflow is clearly the flexibility in the daily routine. The downside of COVID-19 restrictions: Reduction of social contacts. But, through the hybrid onboarding, at least some colleagues could be met in person in the office and for lunch. On top of that, Hybrid Heroes offers a series of online events to increase social interaction among their employees. "Actually, the remote sessions were quite cool", Benjamin remembers. Every Wednesday for instance there is a timeslot in which everybody can join an online room, just to talk about random or personal things to encourage exchange among colleagues and foster the community.
Another example is the mystery lunch for which every team member gets a voucher from a food delivery service and subsequently four randomly chosen employees get together to have virtual lunch, which gives further opportunities to meet other Hybrid Heroes, "especially those who are not working directly in your team", Benjamin says.
Sadly, due to on-going COVID-19 restrictions, the planned Christmas party for the past year also had to be held online but was still a great way to spend time among colleagues aside from work and deadlines. Every employee received a box with snacks and little presents, which were unpacked all together during the call. People prepared presentations and little speeches saying what they were grateful for during the past year at Hybrid Heroes. Mariana remembers: "That was one of the best ways to connect with each other. Those initiatives really helped me settle in."
You have gained an interest in Hybrid Heroes, want to see how we work or want to apply for a position? Get in touch with us through our website or check us out on Instagram or LinkedIn.