Design
Our Design lead shows some of the work he is most proud of

In app development, design plays a crucial role in almost every single step of the process. Today we will therefore dive into two of Hybrid Heroes' work samples, that Design Lead Manu is most proud of.
" In app development, everything starts with an initial concept. And even this concept needs to be designed."
The two main parts of app design are UX and UI design. The first one stands for user experience and is about trying to get the user from the start screen to his goal or end point through the most efficient and user-friendly path. UI on the other hand stands for user interface and focuses on the look and feel of the application – the visual part.
UX and UI are highly correlated in development. It is about finding the perfect balance between conceptualization and visualization. Designers therefore are in need not only of visual and graphical competences, but also of a solid understanding of the content, which according to Manu makes the profession twice as exciting.
" In my opinion, we are very good at presenting complex contexts to the user in a concise and easily understandable way."
Also important in the job is consultation, as clients only in most rare cases come with very specific wishes, so in the iterative process of development we work hand in hand with our clients, in order to create outstanding and user-friendly applications within a cost-efficient qualitative framework.
When re-designing an app for a relaunch for example (giving it a "rebrush"), it is important on one hand to modernize the current corporate identity (CI), but meanwhile keep in mind to not "scare away the current users", by developing a completely new framework, as Manu emphasizes.
I-REACH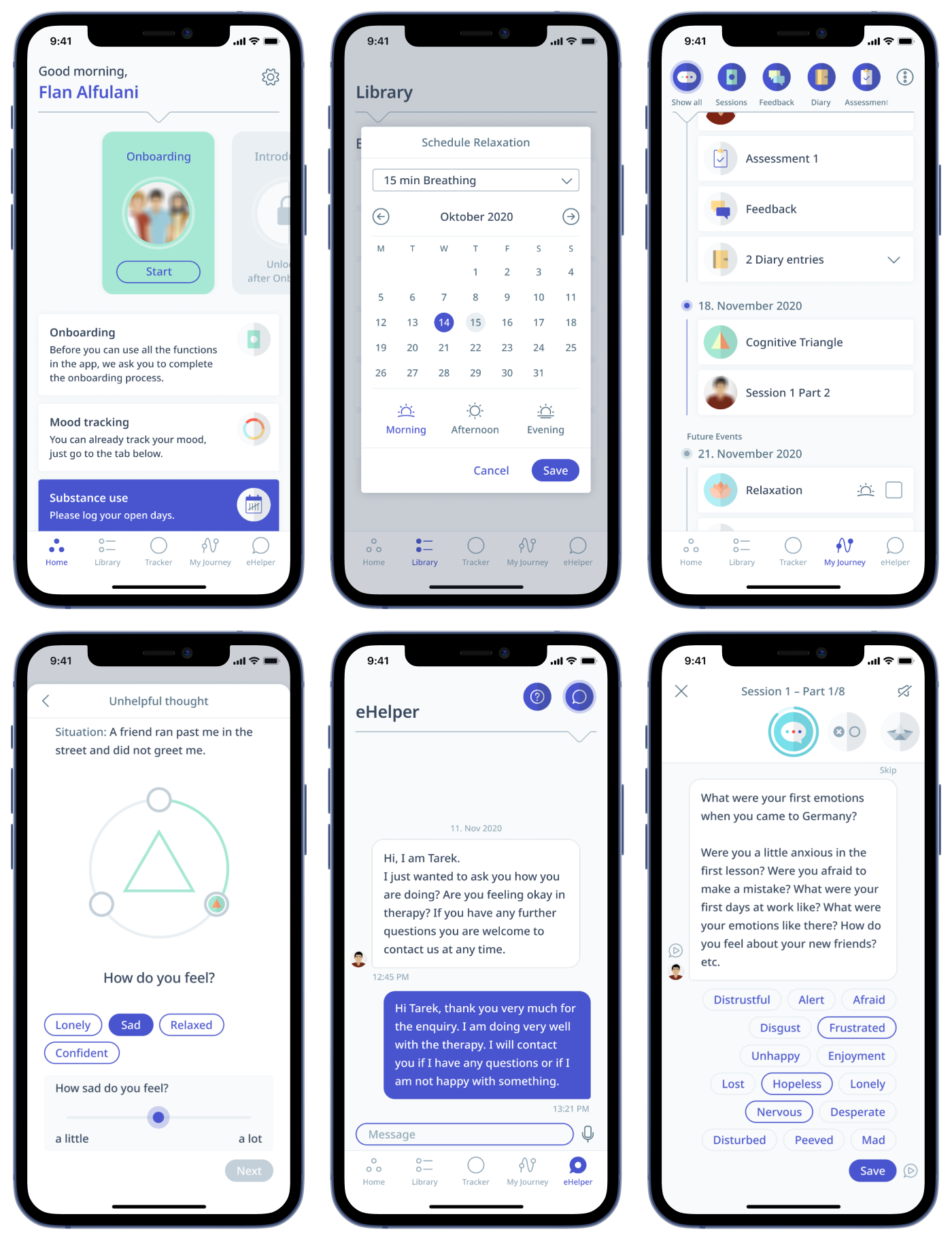 I-REACH was designed for refugees coming to Europe and having psychological or mental health issues since. In the app they can follow trainings, track their current mental health status and get in touch with actual psychologists through an e-helper. The users can adjust the app to their likings and needs.
One of the apps most important features is the on-boarding process, as it is the first access point for refugees with potential psychological problems. This is clearly a key moment, as it decides whether someone abandons the app usage quickly or keeps on going. Therefore, the on-boarding can't be too demanding. To address this potential problem, we decided to work with a chatbot – integrated in most in-app processes – in order to create an open conversation and lower the perceived seriousness of the situation.
" The goal was to make you feel like you're just exchanging simple text messages, whilst you are actually getting psychological help through the conversation."
The app also tries to have a positive visual appearance by using pale and low contrast colours. The colour red for example is kept friendly and doesn't appear too aggressive – "positive feelings should dominate", as Manu highlights.
A challenge in the design was the fact that the app needs to be available in English, but also Arabic. Consequently, icons and text fields had to be designed in a way that they can be read from left to right AND right to left.
Facharzt-Training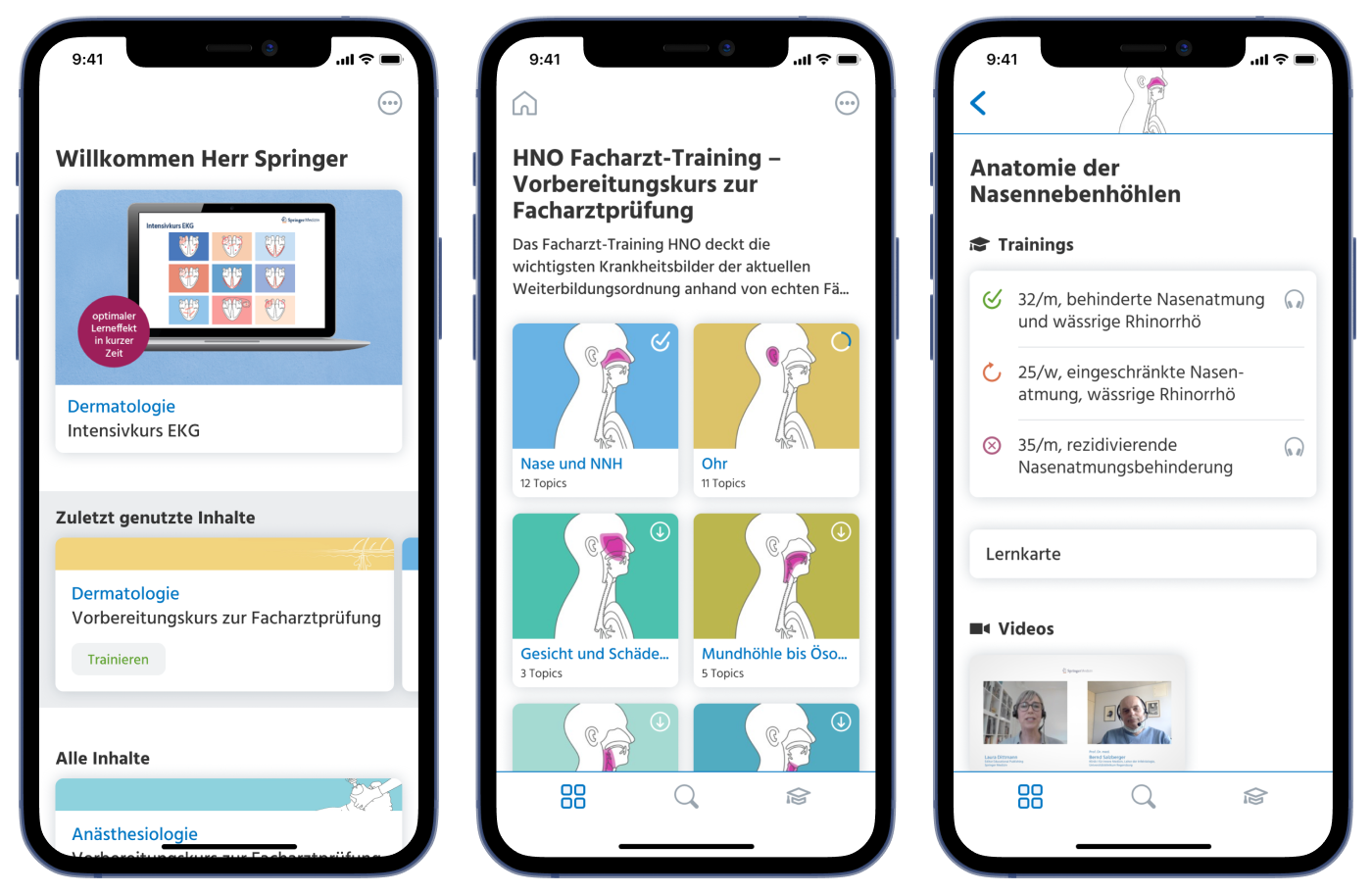 Springer Medizin is a publishing house for medical specialist literature. The Facharzt-Training app has been created for prospective doctors, who need to prepare for exams in different study fields. Apart trainings, the application offers a large literature database, enabling you for example to go through current articles related to the subjects you're studying.
A key concept in the creation, was the modular approach, as topics are constantly added to the application. They can therefore generate their contents automatically and be integrated easily in the design.
For this project, we had to work hand in hand with the customer to implement the learning contents correctly and in a pedagogically valuable way, thus enabling good and effective knowledge transfer.
If you want to know more about how our design process works, read our blog post about design systems or get in touch to discuss your design needs.