Entwicklung
"Diagnosis: Successfully passed!": Check out our latest work for Springer Medizin.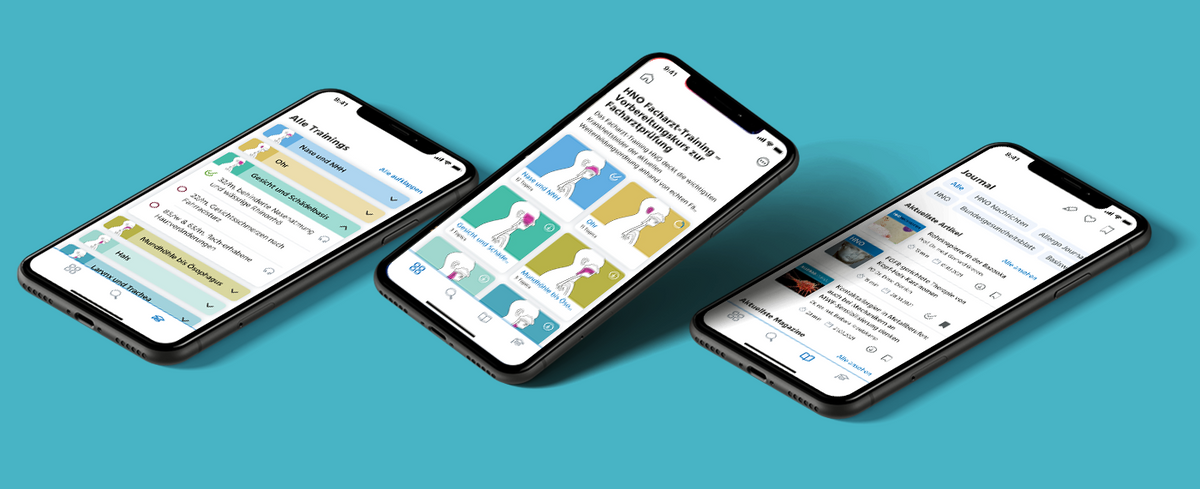 Medical studies are generally considered to be learning-intensive. Cramming without end. That's the only way to pass the exams. But to work as a doctor in Germany, it is not enough to successfully complete your studies; you also need to specialise in a medical field. Learning is the order of the day again!.
In early 2020 Springer Medizin Verlag, who we already developed the e.Medpedia app for, asked us to design and build the new Facharzt-Training App. The goal was to create a companion for future medical specialists during their training. Springer Medizin is the leading publisher for recent and reliable medical content who enables medical doctors of all specialties to stay up-to-date and to have quick access to reviewed content.
If you do not want to constantly drag around heavy books and get lost in your note-taking chaos, but rather learn in a structured and productive way, newly released Facharzt-Training App is worth a try. The app provides extensive learning resources for many popular medical specialties including digital trainings, flashcards and illustrations as well as an exam simulation offering a quick and easy way to study.
Core feature of the app are the real-life cases in which users pinpoint a diagnosis and compare it to the reviewed answer. Training courses are combined with journal articles, videos and e.Medpedia content which allows users to gain a comprehensive understanding of a medical topic. It also allows users to record their learning progress. With a simple yet visually striking interface, the user can learn more pleasantly with less time spent, as all contents can be looked up via the search function. In addition, the app offers offline functionality that allows users to download selected focus regions and access them without an internet connection. A Springer Medizin login and the appropriate access rights are required to use the full range of app functionality.
Having availability for iOS and Android as a requirement, Facharzt Training was built on the basis of the cross-platform framework React Native to benefit from faster and a more streamlined development process. As a plus, cross-platform development allows more seamless management of post-release app updates across the supported operating systems.
The Facharzt-Training app is availabe now at Apple App Store and Google Play.